The Joy of Making Music  
Lessons Increase Creativity – Allow You to Express Yourself – Learn
My philosophy is to make learning music fulfilling and rewarding.  My objective is to help you experience how gratifying it can be to learn music.  Music lessons can include playing various musical styles, theory, improvising, singing, and composing original pieces.
"Taking music lessons with Ms. Massaro was one of my favorite extracurricular activities; she was patient, gentle, and knowledgeable, and went out of her way to include me in different types of musical experiences. Even several years later, I still look back on those lessons as some of the best learning moments I've had!"   – Former Student
Music Lessons for Adults.
It's never too late to learn!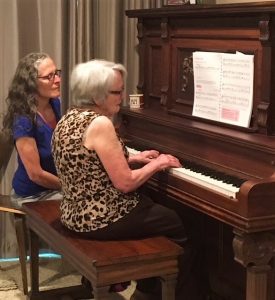 Types of lessons offered, learn one or more skills:
Piano Lessons
Learn to Play Guitar
Songwriting
Singing Lessons
Sing-a-longs
Rhythm Bands (rhythm instruments jam)
Poetry and Sounds (combining words and rhythm instruments)
Sound Healing (Sounds and Meditation for Relaxation)
Drum Circles (with drums/rhythm instruments)
What Music Students Say: 
"I loved how Laura guided the lesson in the direction I wanted.  She was very flexible. I learned songs that were more advanced than my level because I really wanted to learn that song.  She also entertained my interest in learning music by ear.   At the same time, we went through the formal training with the beginner's song book as well."  Suzanne X

"Both my daughter and son were blessed to be inspired and taught by Laura Massaro. Laura is in tune with her students and their music and she knows how to kindle their creativity, as well as teach them with technical expertise. Laura's thoughtful, insightful nature comes through in her teaching tailored for each student. "  Laura S.

"Amazing experience!  I went to Laura for guitar lessons.  She suggested we try singing.  I was hesitant as I believed a had no singing voice.  With her enthusiasm and support I have developed a new talent, enjoyment and love for singing, playing and song writing."   Jasen  K.    Chelsea, MI
Have you dreamed of playing a musical instrument?
Maybe you played when you were younger and have considered taking lessons and playing again.
Maybe you're retired and now have the time to do what you want, or you need a relaxing and fun activity that you can enjoy yourself or share with others.  
I have taught music lessons to all ages for over 20 years and would love to teach you.
Here are some reasons to bring music into your life:
Adds balance to your day and life
Activates your brain
Refreshes existing skills
It's something you've been considering for a while
Make some new discoveries about yourself
Brings a sense of purpose and accomplishment to your life
Learn a lifelong hobby
Opens up pathways to creative thinking
Helps you appreciate music even more
Laura Massaro's  Teaching Experience
Piano, Guitar, Songwriting, Voice Teacher (20 years)
Music Director – Interfaith Center for Spiritual Growth
Professional musician
Also see "About"
SaveSave
SaveSave
SaveSave
SaveSave
SaveSave