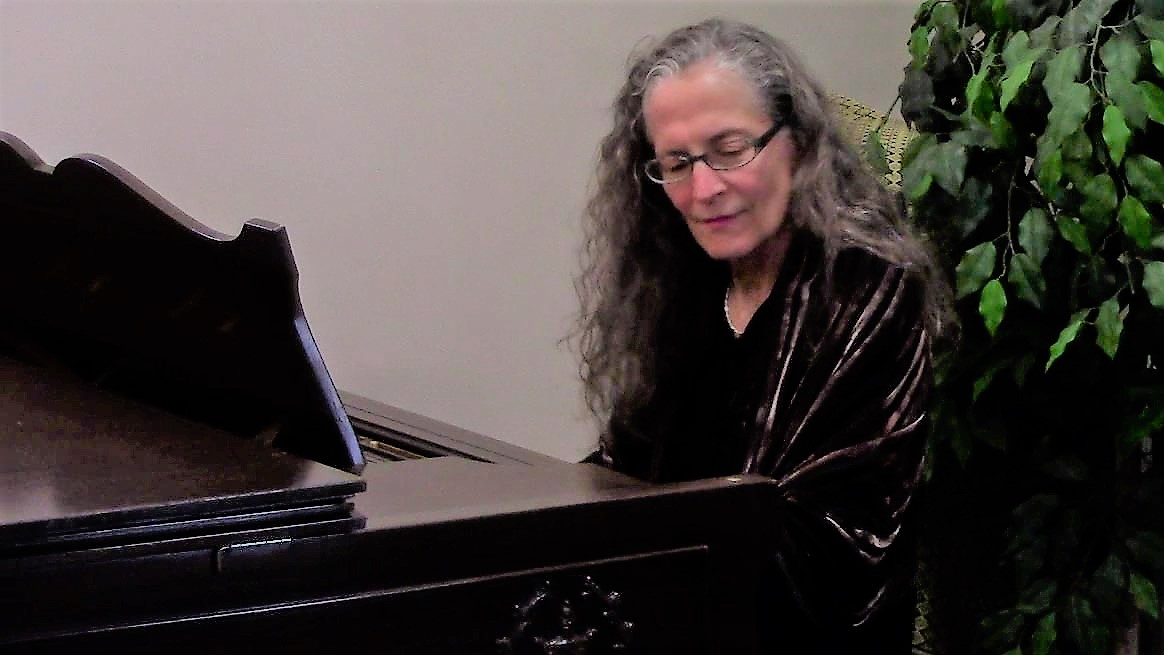 "Laura's music became a beautiful backdrop to our events at The University of Michigan.   She played music in a variety of styles and moods.  It's a pleasure working with her."  – Susan F.   U of M College of Pharmacy
"Laura expresses much sensitivity and heart through her music and has an amazing ability to improvise. She
masterfully
adapts to the varying musical needs of each Sunday Service at our Center."  
Delyth B (Ann Arbor, MI)
Laura is available for:
Weddings
Anniversaries
Birthday Parties
Memorial Services
Parties
Concerts
Any Celebration
Music Performances
Michigan League and Michigan Union
Ann Arbor, MI
Vanderbilt University, Blair School of Music Concert,
Solo Piano Celebration
Nashville, TN
CAFÉ 704
Ann Arbor, MI
Kerrytown Open Market
Ann Arbor, MI
Regional Attitudinal Healing Conference
Warren MI,
Church of Today Concert
The Health Horizon Healing/ Education Center Fund
Brighton, MI
Hurricane Tracks: Voices From Central American-
to benefit victims of Hurricane Mitch
Harambee Productions
Harmonies: Identity, Thought and Vision Documentary on Peacemaking and Jewish, Arabs and  Druze Israeli Artists
Harambee roductions
The University of Michigan Art Museum
Music/Poetry Series
The Interfaith Center for Spiritual Growth
Ann Arbor, MI
Eastern Michigan University
Ypsilanti, MI
Michigan Friends Center Concert
Chelsea, MI
The Yoga Center
Jackson, MI
Sunward Community
Ann Arbor, MI
Crazy Wisdom Bookstore,
Ann Arbor, MI
The Wisdom Center,
MT,  and NC
Women's Wisdom & Wellness Conference
Lansing, MI
Ten Thousand Villages of Huron Valley
Dexter, MI
Music Lessons for Adults
"My philosophy of teaching music is to make lessons and playing music fulfilling, engaging, and fun.  Maybe you 're an adult who has always wanted to explore piano, guitar, voice, or songwriting for creativity or relaxation. My objective is to help you experience how gratifying it can be to learn music."  Laura Massaro
Are lessons something you have wanted to do your whole life?
Retirees– learn to play an instrument as a great hobby
Renew the love and fun of playing an instrument

It's never too late to start music lessons

Playing an instrument is a great stress reliever 

 It helps to take your mind off of your daily problems allowing you to escape and create.  Feel the sense of accomplishment that comes with learning an instrument.  You can play for your friends and family around the campfire, play some songs with your kids, or even start a band.  You can write songs, play at church, or play at parties.  Your possibilities are limitless.
What Music Students Say: 
"I loved how Laura guided the lesson in the direction I wanted.  She was very flexible. I learned songs that were more advanced than my level because I really wanted to learn that song.  She also entertained my interest in learning music by ear.   At the same time, we went through the formal training with the beginner's song book as well."  Suzanne X

"Both my daughter and son were blessed to be inspired and taught by Laura Massaro. Laura is in tune with her students and their music and she knows how to kindle their creativity, as well as teach them with technical expertise. Laura's thoughtful, insightful nature comes through in her teaching tailored for each student. "  Laura S.

"Amazing experience!  I went to Laura for guitar lessons.  She suggested we try singing.  I was hesitant as I believed a had no singing voice.  With her enthusiasm and support I have developed a new talent, enjoyment and love for singing, playing and song writing."   Jasen  K.    Chelsea, MI

Lessons: Piano – Guitar  – Singing  – Songwriting 

LESSONS

–  beginners to advanced

PREPARE for auditions, open mic, CD project
LEARN music theory
SCHEDULE your Lessons Today! 30, 45 & 60 Minute Private Lessons
Lessons are individualized to each student.
Learn to play a specific song or style of music.
Ear training, sight reading, music theory are all included in lessons.
Bring music or cd if you'd like to learn a specific song.
What Leaders in the Healing Growth say
"Your songs, your voice and the piano seemed to reach people's hearts with tenderness." Jackie C., MSW/Bereavement Coordinator – Hospice of Wayne County
"Her musical ability was masterful…while her voice and instrumentation invited us to open our hearts and minds to life with all its wonderful, difficult moments. I would highly recommend her as an addition to any psycho-spiritual event or as a solo performer in a concert of her own." – Laurie Pappas, PhD, Metro Detroit Center for Attitudinal Healing, Berkley, MI
What workshop participants and students say about Laura
"My son has really come out of his shell. He has gone from not wanting to be seen on stage to being Harry Potter in the play. Now he is in the choir in his new school that travels all over the state. This confidence has crossed over into other areas as well. He rebounds from "ribbings" much faster now. Thank you Laura for giving him a gift which we could not give. I always knew there was something deep inside David that needed a way out and I think you helped him find that path." –    Tracy M., Ft. Wayne, Indiana
"Excellent depth of knowledge on music and songwriting: provides basis for ability to both ask and answer questions well. Very good preparation for class; it's taught with high intention and integrity."     Alan Saers, Ann Arbor, MI
SaveSave
SaveSave
SaveSave
SaveSave
SaveSave
SaveSave
SaveSave
SaveSave
SaveSave
SaveSave
SaveSave
SaveSave
SaveSave
SaveSaveSaveSave
SaveSave
SaveSave